ArtCare exhibitions help to create a friendly hospital environment and an opportunity for artists to display their pictures in a lively public space. 30% commission is taken on all sales, which helps fund the ArtCare service. All exhibitions are free to view.
On now and next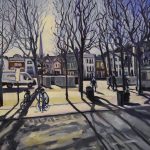 Ringwood Art Society members show their skills is a variety of media including watercolours, pastels and acrylics. More info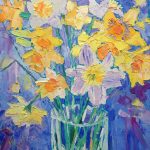 A group of Hampshire and Wiltshire based artists exhibit their diverse works in subject matter ranging from landscapes and still life, to figurative and abstract. More info
ArtCare's annual display of selected works from entries submitted by local and regional artists.. More info
Opening times
Main corridor exhibitions are open at anytime. Exhibitions on side corridors (e.g. Medical Surgical, Endoscopy and Plastic Surgery corridors) are only open Monday to Friday 9.00-5.00pm.
Catalogues can be picked up from the holders alongside the exhibition.
Access Information
Download our access guide (pdf) for further information on travel, disabled access, toilets and refreshments. Hospital site maps can be found on the Trust's website.
Picture sales
To purchase a picture from an exhibition please email Lesley Self, Exhibitions Organiser or call on 01722 336262 ext. 5618. Payment can be made by cheque or debit/credit card.
How do I exhibit?
If you are an artist interested in exhibiting further details can be found on our Opportunities page.