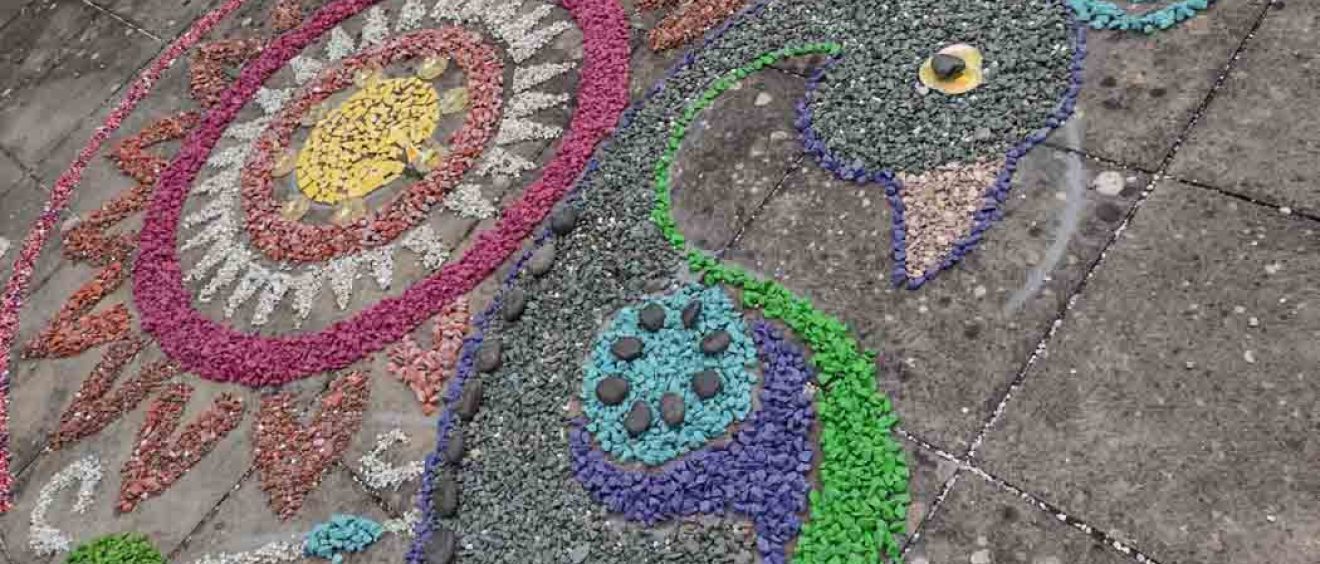 Peacock
To mark the festival of Diwali at the hospital the ArtCare team have created a brightly coloured peacock design using different types of gravel and larger pebbles. The peacock is an important symbol in Hinduism, as well as in many other faiths and cultures. The gravel picture can be viewed on the Level 4, main corridor patio courtyard (turn right at the top of the stairs leading from main reception). See also our Window Wanderland page for more Diwali inspired art at the hospital.
Symbolism of the peacock
In Hinduism, the peacock is a symbol of benevolence, patience, kindness, compassion and good luck. The peacock remains in the presence of Lakshmi who is the consort of Vishnu and is the goddess of prosperity, luck and beauty. The peacock also has a connection with Hindra, the god of rain and thunder, whose waters give a new look and life to the earth.
The peacock (mayura) is the national bird of India. It is the most auspicious animal in Hindu mysticism. Indians keep peacock feathers inside their houses, as it is believed that their feathers will bring luck and prosperity to their families and friends.
To the Buddhist, the peacock signifies purity and their feathers are often used in purification ceremonies.
To ancient Greeks and Romans, the meaning of the peacock tail is that it was the eyes of stars. Peacocks were sacred to Hera, and anyone who took the life of Peacock had to face severe punishment.
In Christianity the peacock symbolises eternal life and the resurrection because peacock sheds its own feathers every year, and they grow back to their glory and grandeur.
In Persian mythology the peacock represents the symbol of guardians and is often carved near royal chambers. Alchemists used the symbolism of the peacock as an earthly form of the resurrection and the phoenix.
In Native American symbolism the peacock meaning is wellness, splendour and poise. Peacock feathers have great importance in healing rituals.
Peacock Celtic symbolism stands for transcendence and freedom. They believe that the bird has the ability to go to the heavens. This is why peacocks represent the liberation of the human soul.