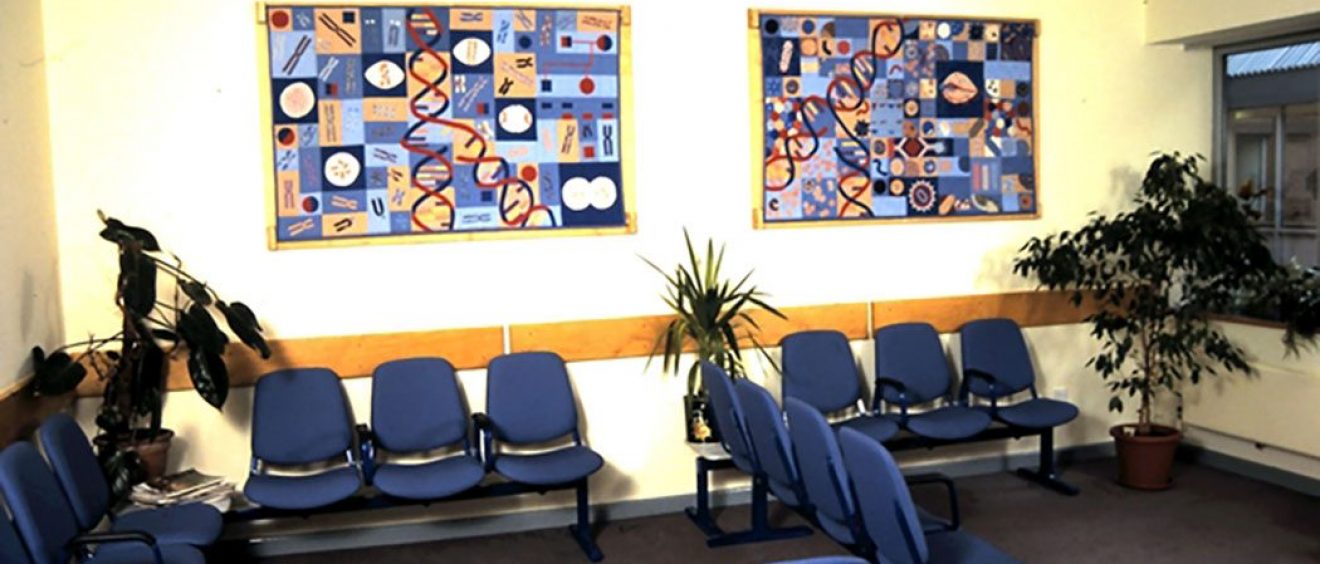 ArtCare beginnings
An interview with Emma Ryder Richardson. Emma started ArtCare in the early 1990s when hospital services moved from Salisbury General Infirmary in the city centre to Salisbury District Hospital at Odstock. She describes her experience of establishing the project and seeing it grow over the first decade.
How did you start ArtCare?
I was friends with Derrek Finnis, who was on the commissioning committee for the new building. He asked if I was interested in coming to work on the commissioning team, for providing art in the new building. Initially, I was too busy. A year later though, I visited the hospital site as part of my involvement with the Salisbury Twinning Association. I just looked at this length of corridor. Imagine that corridor with no beds, no people, no nothing. By the end of the afternoon I had spoken to the Chairman, that was how it started.
I wrote a little proposal, costed things in a very haphazard way, was introduced to Gwyn Blenkinsop and I didn't hear anything more. When I rang a few months later, the response was 'oh, we thought you were going to start.' I was shown into the commissioning team's office – an empty office with a telephone directory in the corner, but no desk, no pencil, no telephone, so I had to start from absolutely nothing. They found a desk for me, but I brought in my own stuff – a typewriter and stationery.
What happened next?
I went to all the wards and departments in the old Infirmary building and talked to staff. It was a good way of introducing myself and getting support. I met with Phil Potter, Sister-in-Charge of Intensive Care. The patients were on the beds right there as we talked and I came away thinking this is what it is all about: the patient is the centre of it all.
My proposal was to have a few things that could be in place when the building opened – large works were what we needed to start with. I brought up 3 or 4 artists who I knew and said, 'What would you do here?' They had some ideas and so had I. One of the ideas was setting up an exhibition area because that was the way to get changing art on the wall. Following on from that was setting up the Open exhibition. I was absolutely amazed with the response we had for the first one. Artists saw it as a great opportunity to show work in a public space and they also wanted to support the hospital. It was also about me being in contact with the artists. It made me see there were vast resources to tap into.
Why was the project important to you?
I am passionate about arts and music. My work areas have always been in the arts. It should be a part of everyday life, subliminally as well. Having had experience of a lot of bleak hospitals I saw this as a great opportunity to pave the way for this kind of arts in health project nationally. It seemed so obvious to me – as distraction, decoration, topic of conversation and bringing people together.
What were the challenges?
From the beginning, I tried to guide people towards a certain quality and standard of art. Posters were cheap, but it helped people start looking at pictures in a new way that they hadn't before. I realised that, at least at the start, I had to be quite conservative, to get people on my side. The original Ruth Dresman piece was 'a bit out', but Diana de Vere Cole everyone loved. Actually, I think it is inappropriate to be 'unsafe' in a hospital environment because people want security, not challenge. I continuously got pot shots from the press saying you are spending NHS funds on this. I constantly had to fight this (it wasn't the case). I eventually realised I had to be part of the organisation. For all kinds of practical reasons – stationery, procurement – it was becoming very difficult for me to continue operating on my own. I saw the link with Estates Management and the Facilities Directorate, as being absolutely key to establishing ArtCare within the Trust. That was the making of it.
Can you tell us the highlights and low points?
Highlight was persuading the (Trust) Board to support that first proposal. It could have gone either way. At that time, I wasn't familiar with the way the NHS presented itself. If I think about the Board sitting there with this little arty person making this presentation, I like to think that my passion came in. I certainly felt terribly emotional about it. I have never felt like that about anything I have ever done. I had won their confidence. I knew then that I was up and running and could develop the project.
I was proud of the Ruth Dresman project (Fruition). That was quite a statement for the Trust. The Roly the Clown project was boundary shifting. My heart was in my mouth over that one, but I knew Roly and I knew it would work. I set it up with the chaplaincy so it had a safe underpinning.
It was wonderful when I finally got a team that worked well together. I remember interviewing Penny (Calvert). She was exuding take me, take me, she was so much the sort of personality that I was looking for. Being able to be strong enough to ride the difficulties that come your way.
Low points were feeling rejected by people. Seeing trolleys in front of pictures and drink machines in places that had been left for artwork.
What advice would you give yourself looking back?
You absolutely have to start from the ground and get the staff with you, before you even think of getting something on the wall. Keep a sense of humour and a sense of determination and be passionate about it. I couldn't have done this if I hadn't felt this passion and determination to do something I believed in 100%.
I think the key to ArtCare's survival has been because it is an integral part of the hospital. In a way, the artworks are incidental – it is the setting up of the relationships that enable the art to be developed. I really tried to integrate the art into the architecture, putting art in a focal point so that it becomes an everyday part of life for people who work there, but becomes a wow factor for people who visit or don't know the building.