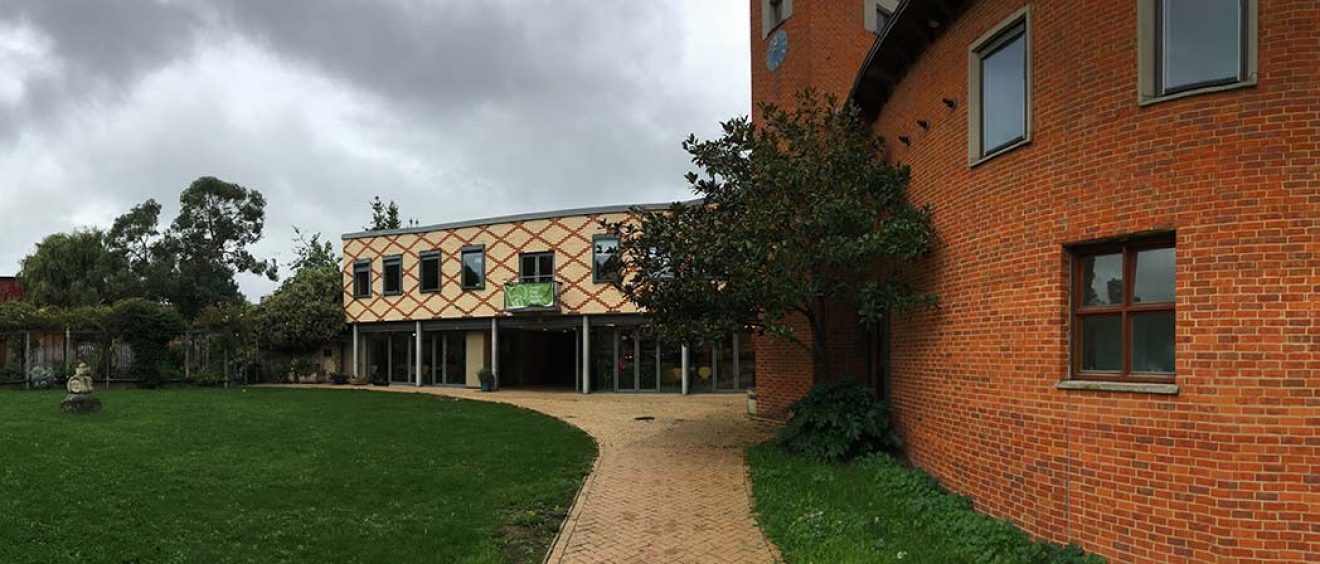 Community is essential
Nestled among the local streets in Bromley by Bow, East London, is an unassuming building with a quiet courtyard that houses a GP surgery and café with adjoining community spaces, a garden and a park. Originally a church, this is now the Bromley by Bow Centre, a hugely successful social enterprise, which is celebrating 35 years of running. ArtCare's Penny Calvert worked nearby in another community project based in Hackney and, way back then in 1996, Bromley By Bow were the pioneers to look up to in the field of integrating social needs, health and the Arts. Now their many strands of work include social prescribing, EastXchange – a skills sharing programme and Beyond Business, their award-winning support programme for emerging social enterprises. The reason for our visit was to learn more about their successes, as a springboard for developing ArtCare's future initiatives and improving how we deliver our arts in health programme.
When we arrived at the Centre we weren't quite sure which part of the building we were meant to be meeting our hosts in. We couldn't see any signs for reception so we asked someone. This, as it turned out, was deliberate. There were no signs for a reason. The reason being that by asking someone you are connecting with them, interacting with them. This is the foundation of community. And community is the ethos behind the Bromley by Bow Centre. It is a 'neighbourhood hub' that allows people to connect in a safe and secure space. Right from its beginnings, the Bromley by Bow Centre has responded to the needs of its local population. It created the community that was lacking when it began and it continues to give people a vital sense of purpose today.
The lack of signage at the Bromley by Bow Centre highlighted a point. As a team, ArtCare are regularly called upon to help improve the signage and wayfinding across the hospital. Visitors to the site are often in a hurry and may be anxious, so signs helping them to get to where they need to be, without causing further distress, are important. It may not be appropriate at the hospital to go as far as actively encouraging the need to speak to someone, but it's worth remembering how beneficial that short communication is. The friendly, helpful person who directed you to where you needed to be might just alleviate a little of the stress and will certainly create a positive impression. Other hospitals, for example Great Ormond Street, have a 'meet and greet' service for this very reason and here at Salisbury District Hospital we often say to ask a porter.
The Bromley by Bow Centre's continuing success is evidence that what matters most is putting the community at the heart of all that it does. Staff at the Centre start by simply connecting with someone, like helping them to find their way, and then they develop that into a deeper relationship over time. They work in partnership with people, helping them to develop skills and shape their ideas. They believe that 'art is for all' and assume that 'anything is possible'. This was highlighted by the member of staff who gave us a tour. She had originally come to the Centre many years previously to reduce the isolation she experienced as a new resident in the area. She enthused about the connections she'd made and the sense of ownership that followed when she got involved with the activities, which led to her now working at the Centre, sharing skills and enabling others.
Our visit to the Bromley by Bow Centre was inspiring. It also reinforced to us that a successful arts in health project depends on how well integrated it is with the community it serves. For ArtCare, we achieve this by co-designing spaces with the hospital community and responding to the needs of individual patients within the Elevate referral programme, for example. For the future, it has shown us the potential of social prescribing initiatives.
ArtCare would like to say thank you to the Insights Team at Bromley by Bow Centre for sharing some of their wealth of knowledge and experience with us. Visit the Bromley by Bow Centre's website to find out more about their successful model for creating healthy, vibrant communities.