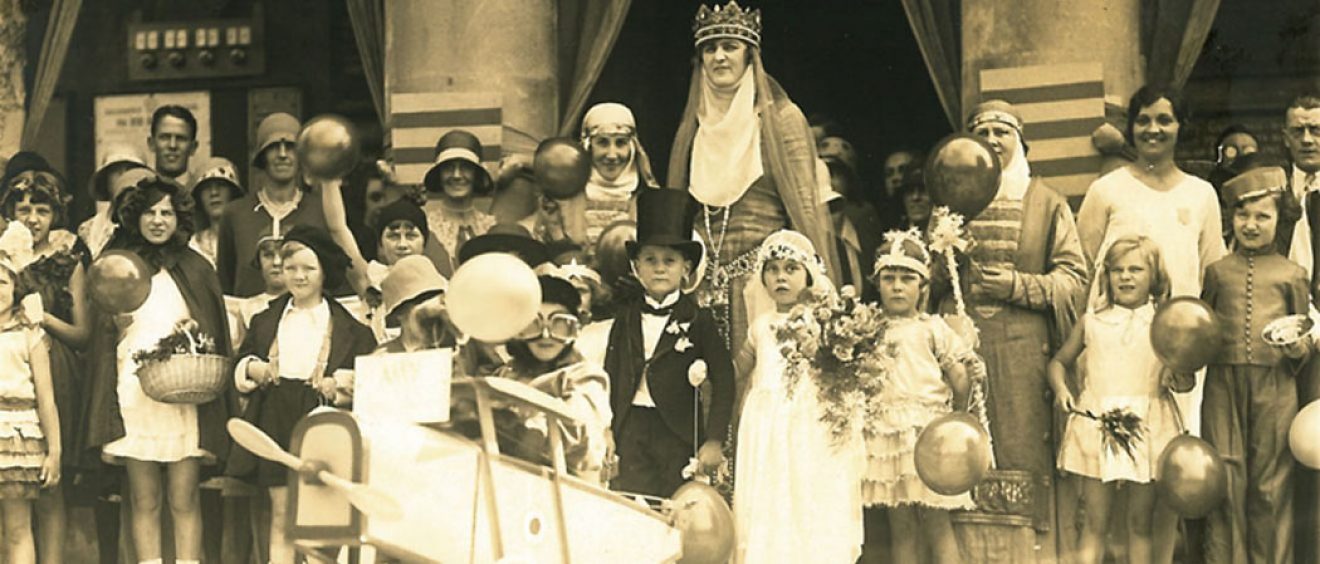 Mop fairs
Elevate artist David Davies tells us about the tradition of Mop or Hiring Fairs.
Description of a Cumberland Hiring Fair
Manchester Guardian, 22nd November 1913
"We had a rough night, and this morning the rain continued to fall heavily for some hours after daylight. This stormy weather has denuded most of the trees in the garden, but we have yet one or two in sheltered places that are showing autumn tints…
If they seek a new place the men and boys stand in the street often with a straw in the mouth, but when engaged they join the merry throng amongst the booths and shows of the fairground. The women and girls have a hall provided and suitable refreshments supplied. In the evening there is a dance and often other entertainments…
A fear has been expressed by some that these fairs were dying out. I can assure them it is not so. All the servants, young and old, come to the hiring to see their friends and enjoy themselves, do their shopping, and have a good time."
This wonderful diary piece from the Manchester Guardian (above), about Mop or Hiring Fairs, reminds me of the annual Mop Fair in Marlborough that's been an autumn tradition in Wiltshire for over 800 years. The Fair is held around Old Michaelmas Day (11th October) when, tradition says, the devil fell out of heaven into a blackberry bush, cursing the fruit as he fell (so blackberries should not be picked after this date!)
Similar Mop or Hiring Fairs – where labourers, servants and craftsmen would seek employment from landowners for the year ahead – were held across England during Old Halloween in November. At the Fair, a would-be housemaid looking for work might carry a mop (hence Mop Fair) and dairymaids a pail. A shepherd might wear a tuft of wool on his lapel; cowmen wisps of straw, and a labourer an ear of corn. A small token of money from the employer – the 'fasten-penny' – sealed the agreement. The new employee would replace their trade signifier with a bright ribbon to indicate they had been hired. Not long after the 1913 diary piece was written, the hiring part of Mop Fairs began to fade and our modern carnival season now continues part of this 'Mop' tradition.
There has been a long tradition of hospital staff taking part in carnival events as this archive image (below) of Salisbury Infirmary Carnival Week 1930 shows. Another image from the 1930s shows nurses in fancy dress, including a Halloween witch complete with broomstick, outside the nurse's accommodation at Salisbury General Infirmary. Both images: www.salisburyhealthcarehistory.uk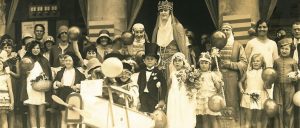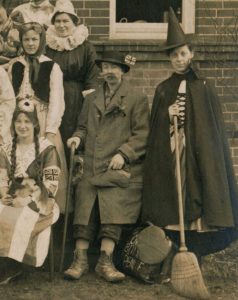 More from David and the Elevate artists
Download 'Elevate your mood' Issue 2 – October 2020 edition (pdf)
Send us your contribution
We love to include some of your own reflections in future posts and in our print edition 'Elevate your mood'. Why not write a few lines, try a poem or send us picture on the general theme of winter traditions? Email to ArtCare or send to ArtCare, Block 29, Salisbury District Hospital, Salisbury SP2 8BJ.