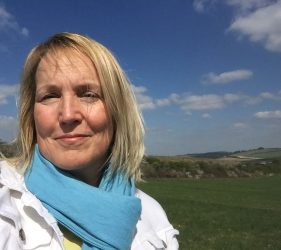 Penny specialises in public and staff engagement, project development and planning, interior design and site specific artworks, training, workshops and community links. Penny has more than 21 years experience in the NHS plus community arts projects across a very wide age range. Penny's key skills and passions are team work; developing creative skills in others; engaging people in shaping their environment and healthcare and developing site specific solutions, projects and products to enhance people's experience of health settings.
Training: Arts Therapy Foundation; BA Hons Three-dimensional design; Arts, disability and employment; Prince2 project management and a PGCE in the lifelong learning sector.
When Penny's not at work she's using photography, design and DIY to capture her favourite places and things, singing, baking or walking the dog at the beach whenever she can.