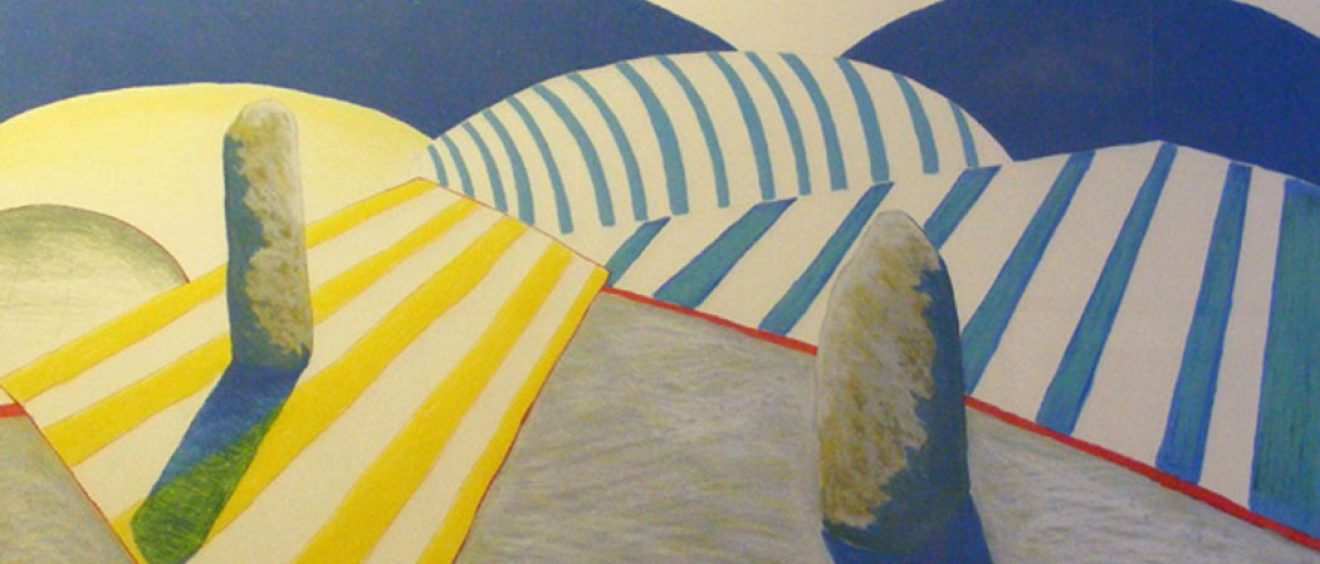 Starry December nights
Elevate artist David Davies writes:
The arrival of winter, with it's lemony light echoed in David O'Connor's 'Agrarian landscape pictured above, is underway and the lead up to Christmas time begins. Advent comes from the idea of 'arrival' or 'coming', which seems a nice way of looking at winter – as a beginning and perhaps, a bit like opening the doors on an advent calendar.
Different cultures and religions use counting up or down towards mid-winter festivals as way of preparation and remembering what's important. The Jewish festival of Hanukkah, also known as the Festival of Lights, runs for eight nights and days. It occurs on the Hebrew calendar between late November and late December. Candles on a candelabrum (menorah) with nine branches are lit each evening using the 'shamash', or "attendant" candle, until all eight candles are lit together on the final evening of the festival.
In other cultures, the idea of 'shamash' or "attendant" relates to summer warmth, the success of crops, and a symbol for justice and compassion. The themes of Advent include hope, peace, joy and love along with faith, journey and forgiveness.
The theme of hope links with the tradition of evergreens at Christmas including spruce trees and holly. A 'tree of paradise' was often at the centre of medieval mystery plays performed across Europe on 24th December. The tree would be decorated with apples (representing forbidden fruit) and wafers (representing redemption). Holly is a symbol of protection and hope. The berries soften after being frozen or frosted, becoming an important food source for birds. During winter storms, birds often take refuge among holly leaves which provide shelter and protection from predators.
And, finally – tinsel! Originally lead or silver strips used to mimic ice. For me, from childhood memories, tinsel was like opening a door on the starry sky of a frosty December night.
More from David and the Elevate artists
Download 'Elevate your mood' Issue 4 (pdf)
Send us your contribution
We love to include some of your own reflections in future posts and in our monthly print edition 'Elevate your mood' or quarterly printed tabloid 'Take the time'. Why not write a few lines, try a poem or send us picture on the general theme of winter into spring? Email to ArtCare or send to ArtCare, Block 29, Salisbury District Hospital, Salisbury SP2 8BJ.