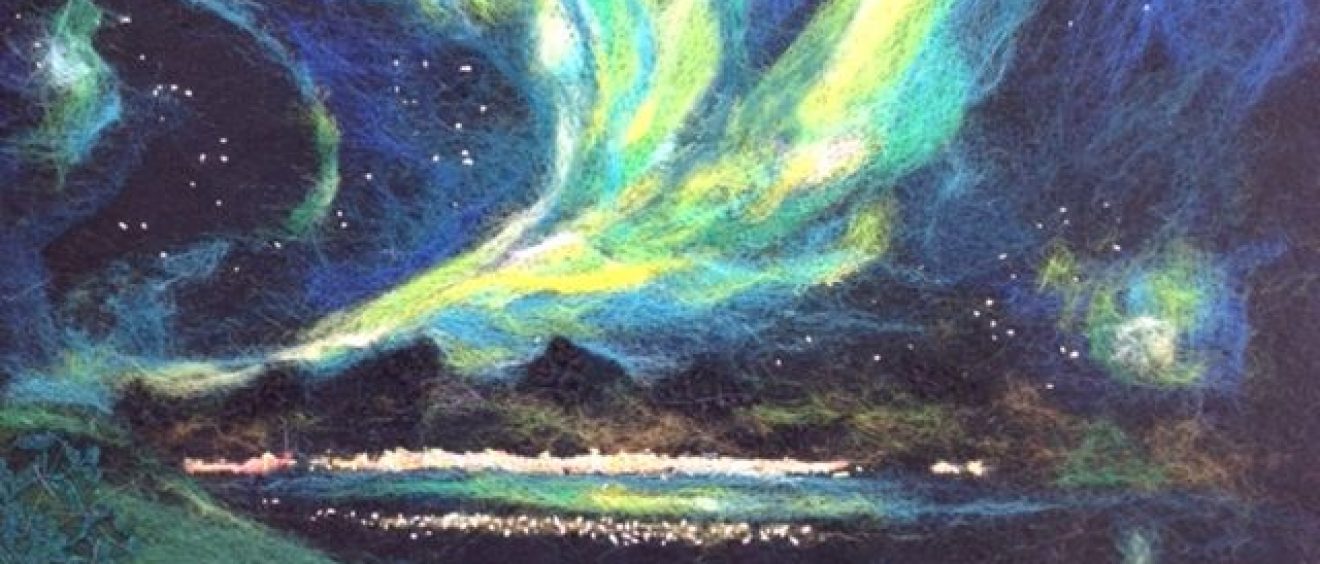 Winter festival of light
Elevate artist David Davies looks at the works of three local artists and is reminded of the unique quality of light at this time of year. He tells us of the thoughts and feelings it awakens.
Winter dreams
Rosemary Jarvis works with fabric and thread. Her dynamic arctic piece 'Norway's Northern Lights', pictured opposite, feels like a landscape of deep winter dreams. The Shetland and Orkney islands term for the northern lights is 'Mirr' or 'Mirry' – to shimmer, quiver or tremble. These rippling and unfurling light patterns reminded me of flickering thoughts and dreams.
Painter David H Jones lives in Lambourn, West Berkshire. I like how his work distils things to organic shapes of colour and tone. In this painting, 'Before the fall' shown below, I imagine the slumbering magic of winter captured or reflected in a frozen lake or glacier, perhaps under the Northern Lights.
New Forest based artist Teresa Rogers works with batik and linocut mediums. Her bright piece, 'Birds and feathers' shown on the right, gives a crisp and sparkling feeling, reminding me of clear, frosty mornings… and the Four Calling Birds in 'The Twelve Days of Christmas'. The icy charm that Teresa captures in her art work reminds me of stories about Frost Fairs held on the River Thames during the Little Ice Age (late 1600s to early 1800s).
Frost fair
In her novel 'Orlando', Virginia Woolf describes The Great Frost of 1608 – 09: "…birds froze in mid air and fell like stones to the ground…At Norwich a young countrywoman… was seen by onlookers to turn visibly to powder and be blown in a puff of dust over the roofs as the icy blast struck her at the street corner."
Frost Fairs on the Thames became elaborate festivals, with dancing, football, bowling, gambling, horse racing, puppet shows, and roundabouts. There were barbers, fruit sellers, shoemakers, and beer houses. Beef, ale, coffee, gingerbread, hot apples, gin, roast mutton, hot chocolate, and black Winter – a festival of light tea were for sale on the frozen river. At the last Frost Fair in 1814 printing presses were also on the ice, producing commemorative poems:
"There you may print your name, tho cannot write
Cause num'd with cold: tis done with great delight
And lay it by that ages yet to come
May see what things upon the ice were done."
More from David and the Elevate artists
Download 'Take the time' Issue 3 – Autumn 2020 edition (pdf)
Send us your contribution
We love to include some of your own reflections in future posts and in our monthly print edition 'Elevate your mood' or quarterly printed tabloid 'Take the time'. Why not write a few lines, try a poem or send us picture on the general theme of winter into spring? Email to ArtCare or send to ArtCare, Block 29, Salisbury District Hospital, Salisbury SP2 8BJ.