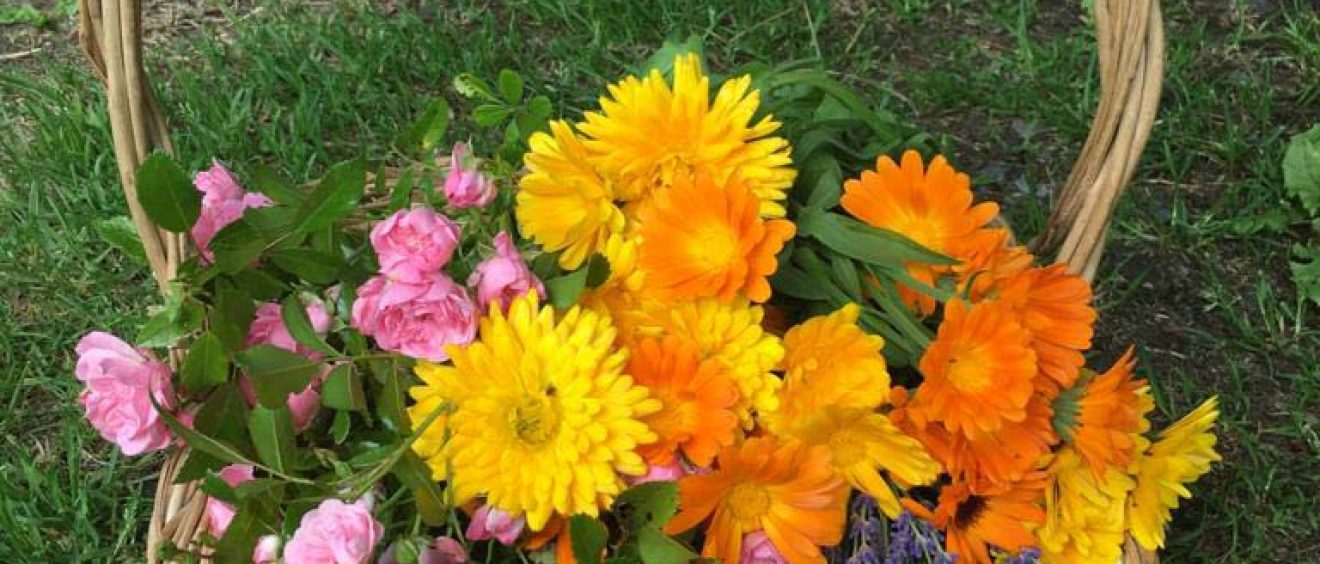 Enjoying summer wildness
It's the start of summer and Elevate artist Hannah Lefeuvre writes from her off-grid small holding in Somerset.
It is officially British summer, and although the weather conditions on many days throughout June felt otherwise, we can celebrate the long days that bestow this time of year. Much of the annual produce has caught up and the vegetable patches are once again in full bloom. Fresh strawberries are producing plenty of fruit and the ornamental flowers, though late, are arriving. I have begun to dry flowers and herbs for winter stores. Lavender, marigold, rose, yarrow, bay and feverfew adorn the ceilings. Meanwhile, whilst many of the soft fruits are slow after the cold spring and several fruit trees have suffered, the wilder areas of the site are thriving.
Our wild flower meadow is into its third month of yielding bountiful colour and spectacle. Foxgloves have lined the full lengths of the field and a second wave of orchids are densely packed amongst young saplings. Yellow rattle, a key grass-suppressing component of wild flower meadows, has taken and is spreading. The meadow project, previously an abandoned slope, full of bracken, bramble and nettle, began with copious amounts of scything and the installation of a rope swing, at the top of the slope, over two years ago. Somehow, the swing changed our relationship with the field, as it became a place of leisure, not only work. The top of the slope now has several swings, a rope ladder, a willow-fenced den and steps up to a viewing point across the valley. Curvaceous paths have been scythed to lead to these key features and the bramble and bracken are waning. The off-grid lifestyle can create a work-sink, a never-ending list of jobs and projects, but we have learnt that leisure is vital in sustaining this existence and in this instance, I enjoy a few minutes of perspective, followed by a 'woosh' as the body becomes light, lifts away from the ground and into the air.
Speaking of leisure, in summer, when our cabin heats up with passive solar and water supplies are low, we seek wild swimming spots to cool off. This year, the wet weather has kept our water tanks well stocked and whilst it has not been unbearably hot, we have still managed some wild swims on hotter days. Paddling feet in shallow streams and wading into deeper rivers, wild swimming helps to move from the head to body. The physical shock 'oh' on entering is a necessarily present and mindful experience and a brave head dunk can offer a complete reset. I hope that there will be many more wild swims to come this summer and these connections with the leisurely aspects of the wilder landscape give me so much hope for the future.
More from Hannah and the Elevate artists
During the spring and summer 2020 Hannah Lefeuvre recorded 13 audio Garden Musings about the nature surrounding her and living off-grid. You can listen to all episodes of Hannah's Garden Musings here
Download 'Elevate your Mood – Issue 11 (pdf)
Send us your contribution
We love to include some of your own reflections in future posts and in our monthly print edition 'Elevate your mood' or quarterly printed tabloid 'Take the time'. Why not write a few lines, try a poem or send us picture on the general theme of beach, holidays and summer? Email to ArtCare or send to ArtCare, Block 29, Salisbury District Hospital, Salisbury SP2 8BJ.