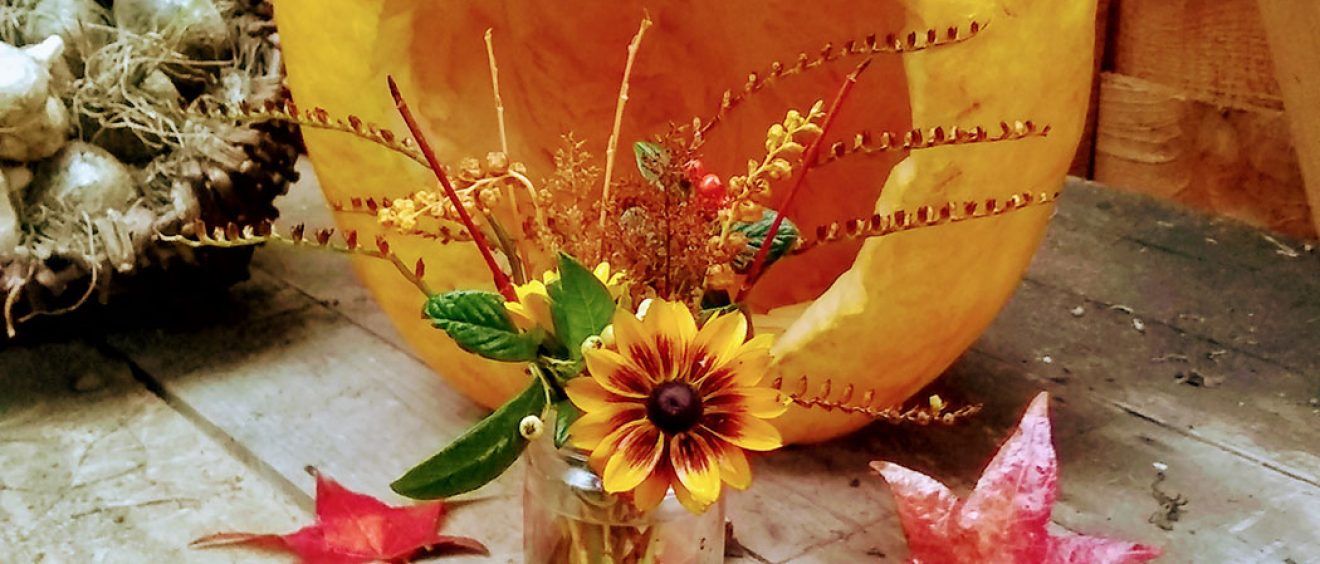 Late autumn musings
Elevate artist Hannah Lefeuvre lives off-grid in a small holding in Somerset. She loves to write a daily journal and finds great comfort in the handwritten word on the page. We hope you enjoy reading her reflections and observations, including some excerpts from her diary and maybe it will evoke thoughts of your own experiences of gardening and nature…
Late October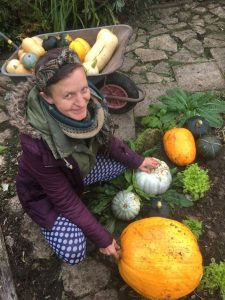 It's late October and the long-awaited squash and pumpkin harvest has been revealed – hooray! The cold store shelves are lined with a beautiful array of various colours and forms, as the plentiful squash sit alongside apples, pears, garlic plaits, jars of preserves and sacks of root vegetables. Squash is one of my favourite home grown vegetables and our stores will gladly last us into the new year. The pumpkins require more creativity, but with some imagination and spice, we enjoy pumpkin patties, cakes and soups, while gifts to friends and family help us to munch through the volume.
In mid October, I created my last batch of flower displays and what a delightful send-off it was. A fine colour pallet of pinks, purples, yellows and whites, the bouquets included: Nerine Lilies, Jerusalem artichoke flowers, Fuchsias, Buddleia, Michaelmas Daisies, Sedum and Mont Brisha stems. The flowers provided quite an autumn spectacle, as I passed through the village, my bicycle basket brimming with colour, to deliver flowers to our neighbours. I hope that the flowers cheered a few spirits at this time. I particularly notice nature's colours at this time of year. Almost luminous, I love the autumn glow and our winter cut back, reducing the shade and bringing more light into the garden, helps to emphasise this. I particularly enjoy the pinks available from the likes of spindle and other shrubs and creepers.
Willow cutting
I am always excited when willow cutting time arrives. I watch the leaves in the run up and as soon as they have dropped, stomp up the garden, armed with loppers. We have three types of willow, as well as flame-coloured dogwood, the latter of which brightens our garden throughout the winter. The willow will sit and soak for a while, and in the coming months, it will be used extensively, for winter crafts, fences, chair-backs, baskets, climbers and perhaps the odd garden sculpture. I love the willow for its timeless, mindful simplicity and I enjoy creating something new with the willow each year.
We enjoy engaging in the various traditions that come with the changes of seasons and relish carving the largest pumpkin to display at the end of October. We also make a large bonfire to clear the mass of brash from our garden cut-back and sneak some foil-wrapped potatoes in the embers to roast for our dinner. I wonder what comes to mind for you when you think of gardens at this time of year?
More from Hannah and the Elevate artists
During the spring and summer 2020 Hannah Lefeuvre recorded 13 audio Garden Musings about the nature surrounding her and living off-grid. You can listen to all episodes of Hannah's Garden Musings here
Download 'Take the time' Issue 3 – Autumn 2020 edition (pdf)
Send us your contribution
We love to include some of your own reflections in future posts and in our monthly print edition 'Elevate your mood' or quarterly printed tabloid 'Take the time'. Why not write a few lines, try a poem or send us picture on the general theme of winter into spring? Email to ArtCare or send to ArtCare, Block 29, Salisbury District Hospital, Salisbury SP2 8BJ.