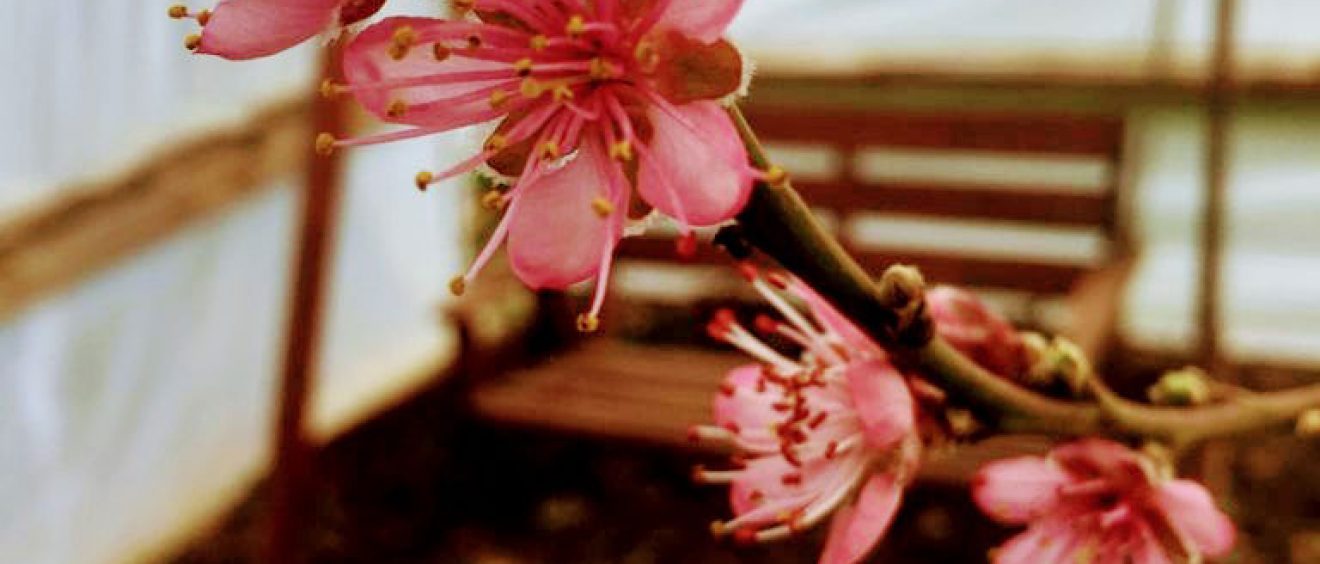 Springtime
Spring is in full bloom and Elevate artist Hannah Lefeuvre tells us what this means for her living on her off-grid small holding in Somerset.
At last, spring is in full bloom and in nature, at least, things are set to get more desirable for many months to come. Now we can look forward to more blossom, flowers, fruits, vegetables, daylight and warmer weather. To say that it has been a difficult twelve months, is a vast understatement for so many. We all have our comforts, and for me, nature and creativity have been consistent touchstones throughout. I hope that reading our piece will give you some comfort and that you too, will have ways to connect with what matters to you.
As you read this, I hope to be at home, convalescing after major surgery. I will sleep downstairs, next to a large window, where I can awaken to the dawn chorus. Our forest garden provides ample food sources for birds, with large enclosures to safely nest, resulting in a rich cacophony of sounds. Our recently introduced bird table has brought many welcome guests to our dining window and we are gradually learning bird song. From the garden, we still have ample parsnips, brassicas, spinach, chard, garlics, fruit and tomato preserves, frozen squash and fresh salad.
At the beginning of April, vegetable seedlings fill our living room shelves and blossom bursts from many of the Magnolia, Amalanchier, Prunus and Blackthorn trees. Daffodils have injected colour into large parts of the garden and everything feels ready to regrow. With additional daylight, solar electricity is no longer scarce, and the raeburn use has lessened. Weather forecasts are closely monitored and lessening frost damage is crucial. Our polytunnel peach and apricot trees are an ongoing experiment, as they are mostly frost-proof, but need pollinators. We faithfully open the polytunnel doors each day and in previous years, hand-pollinated with paintbrushes. However, we gave up on the latter method, after a year of no fruit, with the doors shut.
Meanwhile, I still enjoy craft projects in the lighter early evenings. This year, I have initiated a 'decorate the village' plastic-free Easter trail and made miniature Easter baskets as gifts. Corn from a neighbour's thatched roof has resulted in a number of corn-dolly experiments and pieces of old worn crockery from last year's beach combing have been used as mosaic on large stone eggs. I do hope you enjoy the photographs.
More from Hannah and the Elevate artists
During the spring and summer 2020 Hannah Lefeuvre recorded 13 audio Garden Musings about the nature surrounding her and living off-grid. You can listen to all episodes of Hannah's Garden Musings here
Download 'Elevate your mood' Issue 8 (pdf)
Send us your contribution
We love to include some of your own reflections in future posts and in our monthly print edition 'Elevate your mood' or quarterly printed tabloid 'Take the time'. Why not write a few lines, try a poem or send us picture on the general theme of summer? Email to ArtCare or send to ArtCare, Block 29, Salisbury District Hospital, Salisbury SP2 8BJ.