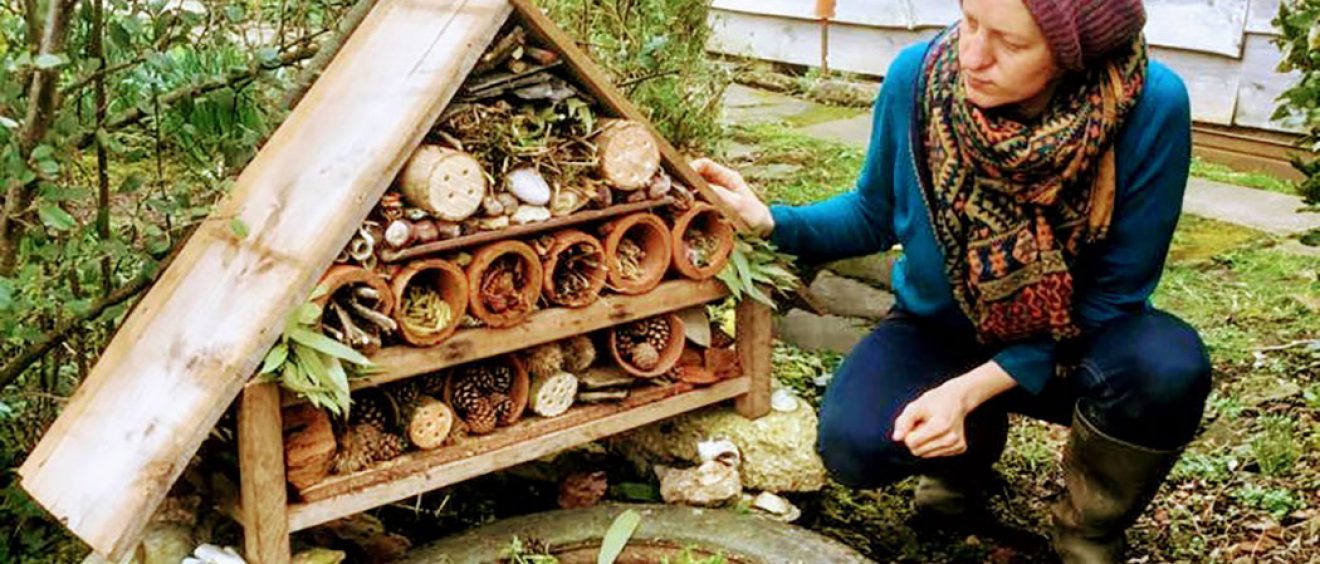 The feeling of hope
Early spring observations from an off-grid small holding in Somerset by Elevate artist Hannah Lefeuvre.
new beginnings
As March heralds the end of the winter and the beginning of spring, I'm sure many will breathe a particularly deep sigh of relief, as one of the toughest winters we have experienced for sometime. I do enjoy observing and celebrating each season, but this year, I feel ready for the feeling of hope and new beginnings that spring is deservedly reputed for. Spring bulbs that line the paths and hedgerows cause daily amazement, for their perennial resilience, coverage and yield, and serve as a reminder that there is much to look forward to in nature, for many months to come.
Over winter, our mature forest garden became a work-sink for vast swathes of unexpected time at home. Now, after five months of pruning, coppicing and clearing, all available banks are lined with compacted 'habitat piles'. With so much to clear, a few bonfires warmed and lit up particularly chilly days and evenings, and afterwards, the glowing embers provided a hot oven for foil-wrapped squash and potatoes.
Seedlings season began in late February, with tomatoes and celeriac. It is particularly vital to start the former early, as this cannot be fast-tracked later on. We plant ample tomato seedlings, in case any fail later in the process, and often give away seedlings to any fellow growers who get caught out. Last year, we tried a range of tomato growing methods, to maximise our chances. Some were planted out small, others were potted on and we nurtured any that self-seeded. After two years of struggling with slow pepper growth, the pepper demise will be replaced with extra tomatoes this year.
In March, we are still munching through stores of fruit preserves and freezer berries, along with apples, squash, garlic and oca from cold store. From the ground, we enjoy brassicas, parsnips, and leeks, but it is challenging to live entirely off home-produce at this time of year, so the green grocers provide convenient colour and variety to our plates.
Whilst the produce is quiet, the ornamental garden is rewarding, as we enjoy a tidy outlook, with minimal input. The extra solar light is palpable and the winter cut-back has brought favourable light to the fruit, the polytunnel and vegetable patches.
At the time of writing, as I prepare to go in to hospital myself, I can relax a little in the knowledge that the garden needs little attention for a few weeks. Nonetheless, I will keep the garden, and particularly each of the flowers, in my mind throughout my time in hospital. The garden, and all its resource, purpose and offerings, has become a constant source of comfort in this challenging year and I hope that these writings, from my garden, will conjure pleasant images for you too. I created a bug hotel and put some bird seed out, to ensure I have visitors whilst I'm away and during my recovery.
More from Hannah and the Elevate artists
During the spring and summer 2020 Hannah Lefeuvre recorded 13 audio Garden Musings about the nature surrounding her and living off-grid. You can listen to all episodes of Hannah's Garden Musings here
Download 'Elevate your mood' Issue 7 (pdf)
Send us your contribution
We love to include some of your own reflections in future posts and in our monthly print edition 'Elevate your mood' or quarterly printed tabloid 'Take the time'. Why not write a few lines, try a poem or send us picture on the general theme of spring? Email to ArtCare or send to ArtCare, Block 29, Salisbury District Hospital, Salisbury SP2 8BJ.